Sludge Dewatering Treatment Process
The typical sludge treatment process includes following stages. The first stage is the pre-treatment of sludge, which is to modify the organic matter on the surface of the sludge particles to reduce the water binding capacity of the sludge; at the same time, reduce the compressibility of the sludge, so that the sludge can meet the requirements of the high-dryness dehydration process. The second stage is sludge dehydration to further reduce the volume of sludge; the third stage is sludge disposal, and the final sludge is treated in a certain way.
Kinds of Industrial Wastewater Sludges Can be Processed: municipal sewage, electroplating wastewater, mining sludge, river sludge, oil field sludge, artificial sand wastewater, printing and dyeing wastewater, tannery wastewater, leather wastewater, papermaking wastewater, iron and steel wastewater, etc.
At present, industrial sludge treatment uses mechanical dewatering. Through the action of filter press, the moisture in the wet sludge permeates the filter cloth, becoming clear filtrate; the dewatered sludge (filter cake) is trapped on the filter cloth and discharged, for further process.
After the dewatering process, it is convenient for transportation and disposal. There are many ways to dispose sludge, mainly including agricultural and forestry use, sanitary landfill, incineration, and production of building materials.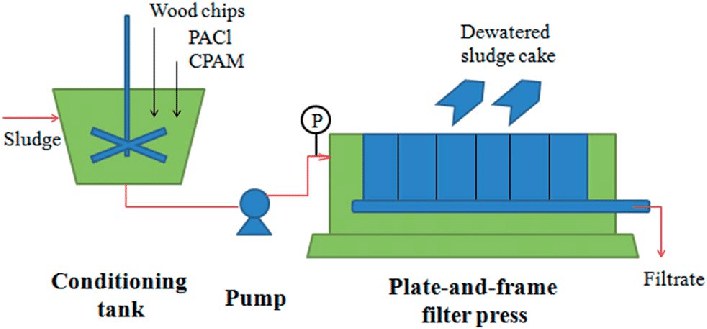 Common Facility Used in Sludge Treatment Process
Sludge conveying equipment: sludge feeding pump, belt conveyor, screw conveyor, etc.
Sludge thickening equipment: sludge thickening scraper, belt sludge thickening machine, sludge drum thickening machine, centrifugal thickening machine, air flotation thickening equipment, etc.
Sludge dewatering equipment: centrifugal dehydrator, belt filter press, plate and frame filter press, chamber filter press, membrane filter press, etc. Sludge dewatering is a critical part of sludge treatment.
Sludge disposal equipment: sludge composting-fermentation equipment, mechanical mixing equipment, biogas mixing equipment, etc.
We have 17 years experience in sludge treatment process, our products have been exported to over 90 countries, such as Singapore, Phillipine, Malaysia, Thailand, Pakistan, Sri Lanka, UAE, Uzbekistan, Kazakhstan, Russia, South Africa, Zambia, etc. If you have any needs, we will provide professional and Turnkey solution for you.