Product Description
Sludge dewatering machine/sludge dewatering press is a new type of environmental protection, energy-saving and efficient sludge treatment equipment. With the principle of screw extrusion, through the strong extrusion force generated by the change of screw diameter and pitch, as well as the tiny gap between the moving ring and the fixed ring, it can realize the extrusion and dehydration of sludge.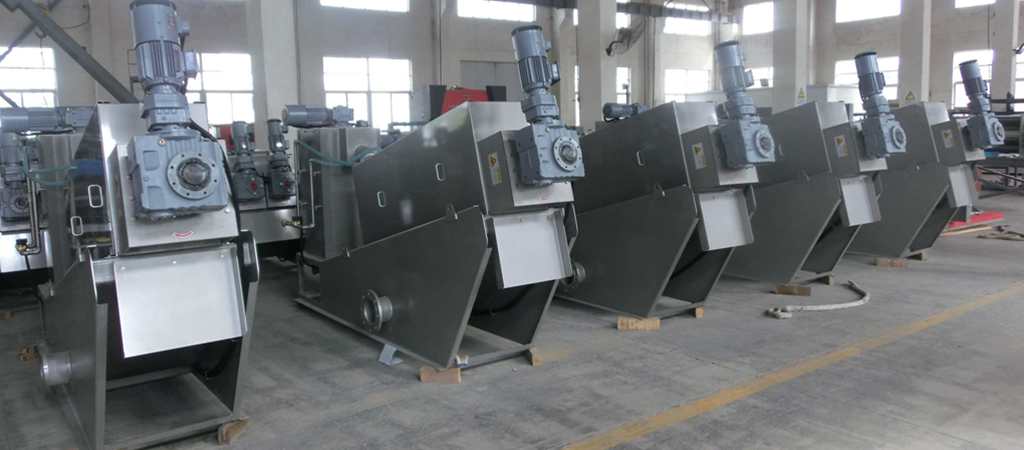 In addition to screw press, we also have belt filter press and plate frame fitler press for sludge dewatering. As leading top 2 filter press manufacturer and supplier in China, we will provide customized and professional sludge dewatering solution according to your needs, please feel free to contact us at any time.

Advantages of Sludge Dewatering Press
1. Wide application,suitable for sludge in municipal sewage, food, beverage, chemical, leather, welding consumables, papermaking, printing and dyeing, pharmaceutical and other industries. It is suitable for dewatering of high and low concentration sludge.
2. Compact design, the dehydrator includes an electric control cabinet, a metering tank, a flocculation mixing tank and the main body of the dehydrator. Small footprint, easy maintenance and replacement.
3. It is not easy to block and has the function of self-cleaning. There is no need for cleaning to prevent filter clogging, reducing flushing water consumption and reducing the burden of internal circulation.
4. Continuous automatic operation, 24-hour continuous unmanned operation. Short routine maintenance time and simple maintenance work.
5. Durable, almost all of the body is made of stainless steel, which can maximize the service life. The replacement parts are only the screw shaft and the traveling ring, and the service cycle is long.